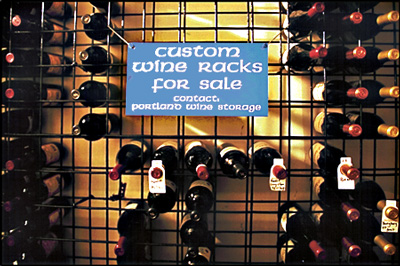 Our steel racks are welded clean and mounted against the walls to cradle and support any collection.
We designed these racks because we were tired of referring our clients to other businesses who overcharge, and then build inferior systems which do not perfectly utilize our client's storage space. We are proud of our product and its value to you.
Ask your contractor or contact us directly if you would like us to help you with your home cellar.
Technical Information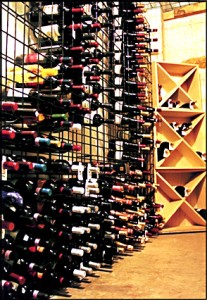 Each standard rack uses a 4 inch square grid, and is no taller than 21 grids — seven feet.
This grid opening holds burgundy and champagne bottles as well as smaller Bordeaux sizes and even 350-ml bottles.
We also offer grids large enough to accommodate magnum and 3 liter bottles. We can custom-make racks to fit unique spaces. In our facility, we prefer to build racks to fit an entire wall.
Purchasing Racks
With installation at our facility, racks are $27 per square foot; a single square foot of space translates to 9 bottles – $3 per bottle.
Rack Rental Options
Racking can alternatively be rented  – please inquire for a quote.